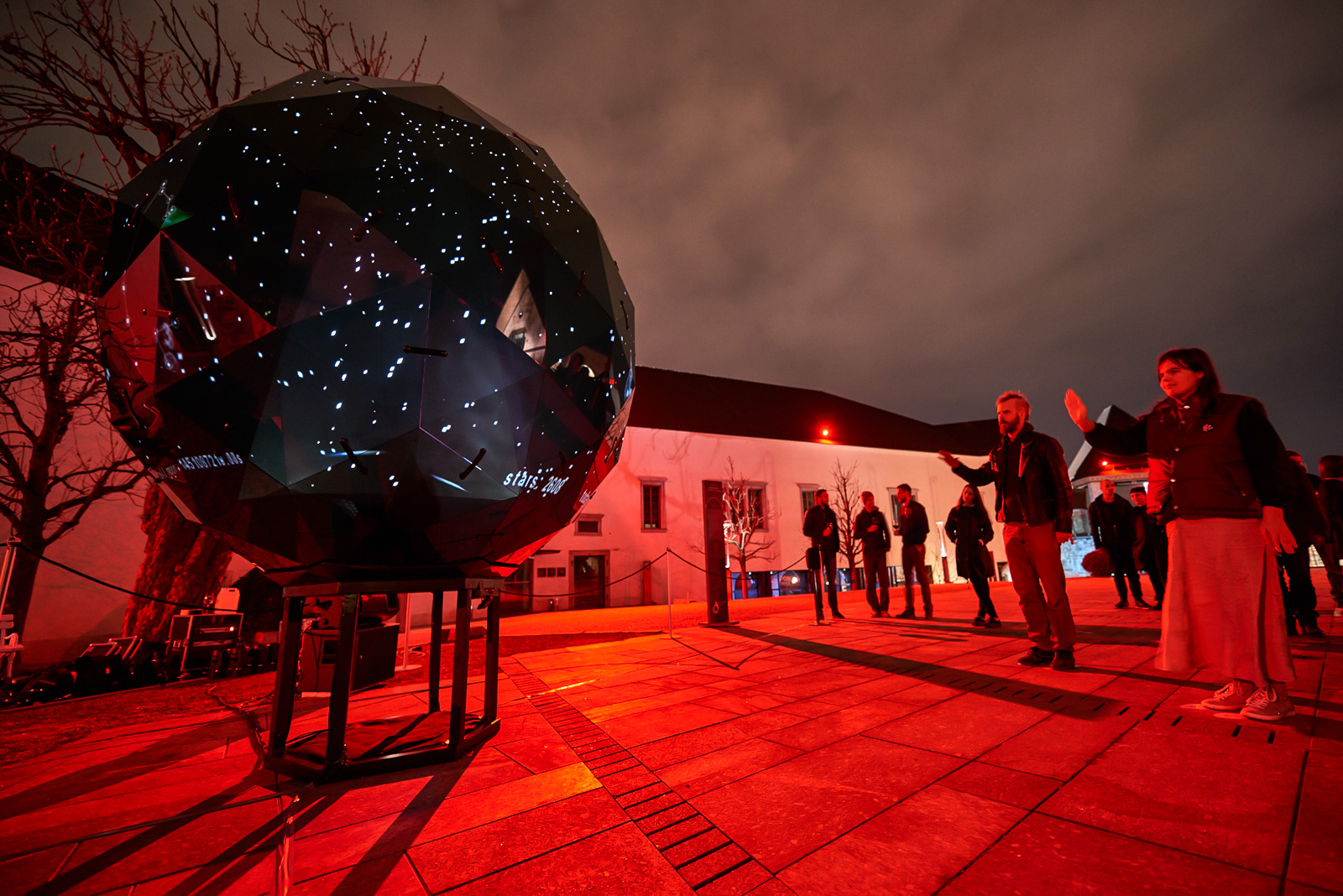 At Slovenia's famous Ljubljana Castle, artist Martin Bricelj Baraga is presenting his monolithic interactive public sculpture, 'Moonolith'.
On a practical level, the moon warps the ocean, bringing in and out the tides, but it also serves as a way to mark time on the calendar. Earth's luminous satellite also fascinates humans when it transitions into the full moon lunar phase, especially when appearing gigantic in scale. Inspired by the moon's effects on the planet and human imagination, Slovenian artist Martin Bricelj Baraga created Moonolith, a monument to the moon and the stars that surround it. Baraga's public sculpture is a black geodesic dome upon which he projects interactive simulations of the star constellations and moon phases. The result is what he calls a "special public clock."

"The idea of passing time and space are connected to the idea of the early stages of the project where I wanted to create a public monument in a city square that would be a reflection of the Moon in real time and that would count minutes by rotations of the Moon phases," Baraga tells Creators. "[The] Moon affects all of us, and so does time. I wanted to create an universal monument that we can all relate to."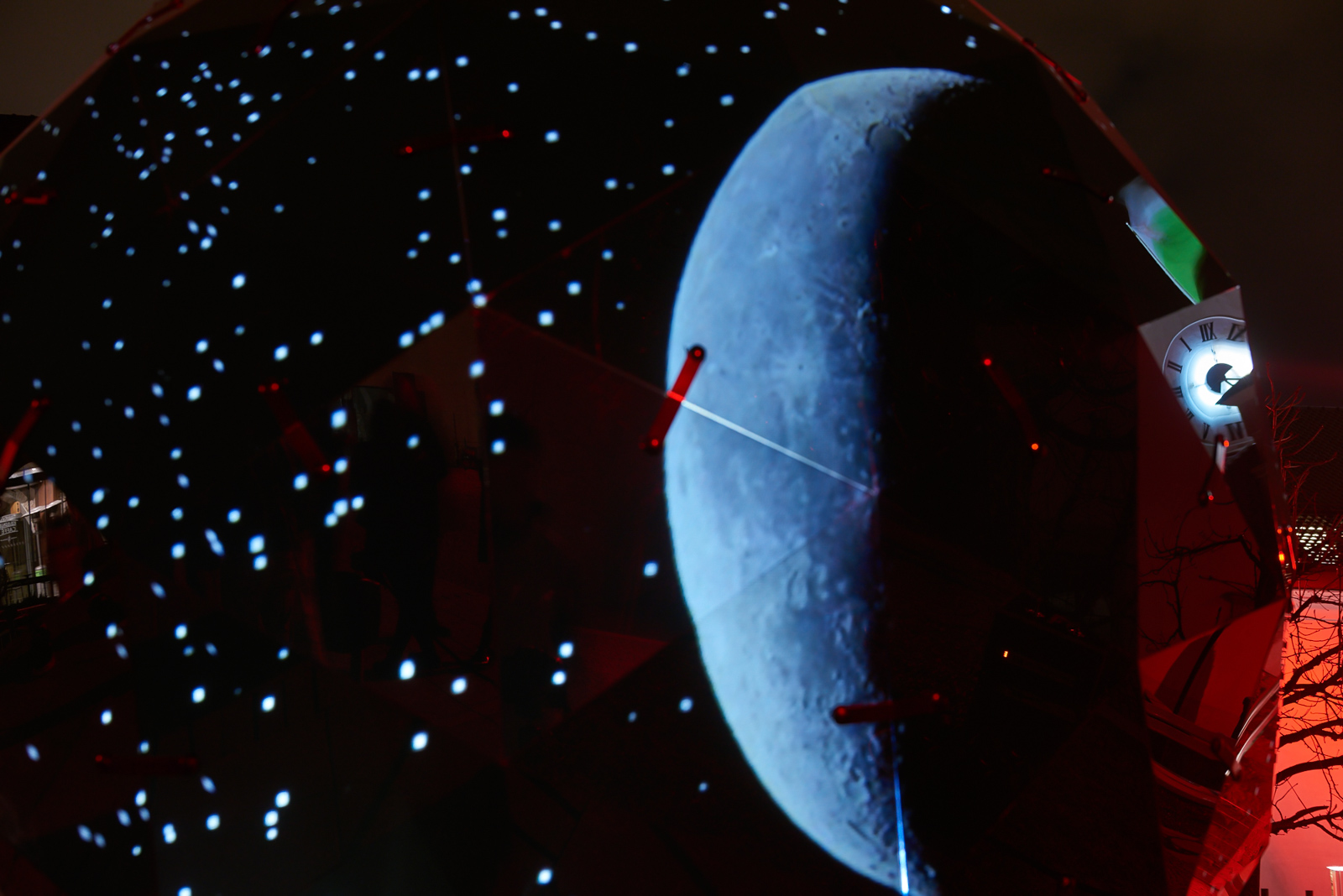 Baraga's Moonolith is currently installed at Ljubljana Castle, a popular central European castle located in the capital of Slovenia. Moonolith sits in the castle square, under the stars, and is the first thing that visitors see upon entering the castle.

"We have developed a special surround sound interaction for day visitors," says Baraga. "When moving, people trigger different sounds and different modes of sound movement, from circular to random sounds to an alert sound (if you come too close to the beast)."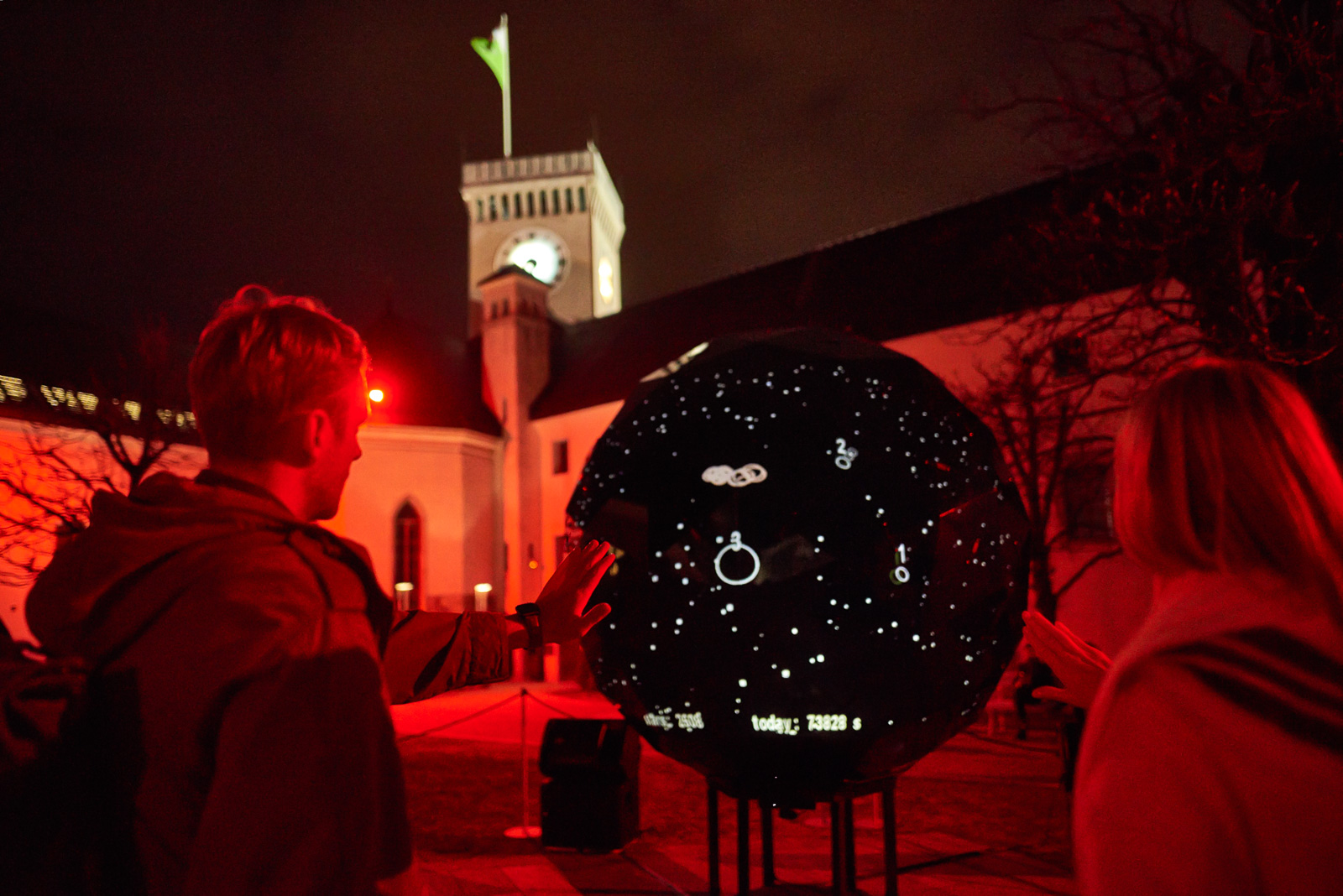 "At night people can interact with the stars on the surface of the Moonolith," he adds. "With simple gestures of their hands they can select different starting points, create imaginary or real constellations, and play with each other until they reach the Big Bang, which is a big source of enjoyment for everyone involved. So, in a way, the sculpture becomes a cosmic instrument."
Baraga says that Moonolith grew out of a multi-annual artistic research project titled DarkStar, which has creators from various fields team up to make a contemporary, interactive, and mobile monument for public space. A lot of prototyping went into the development of Moonolith, as it needed to be a simultaneously solid, mobile and transparent sculpture. One that could be dark during the day, as well as light up during the night.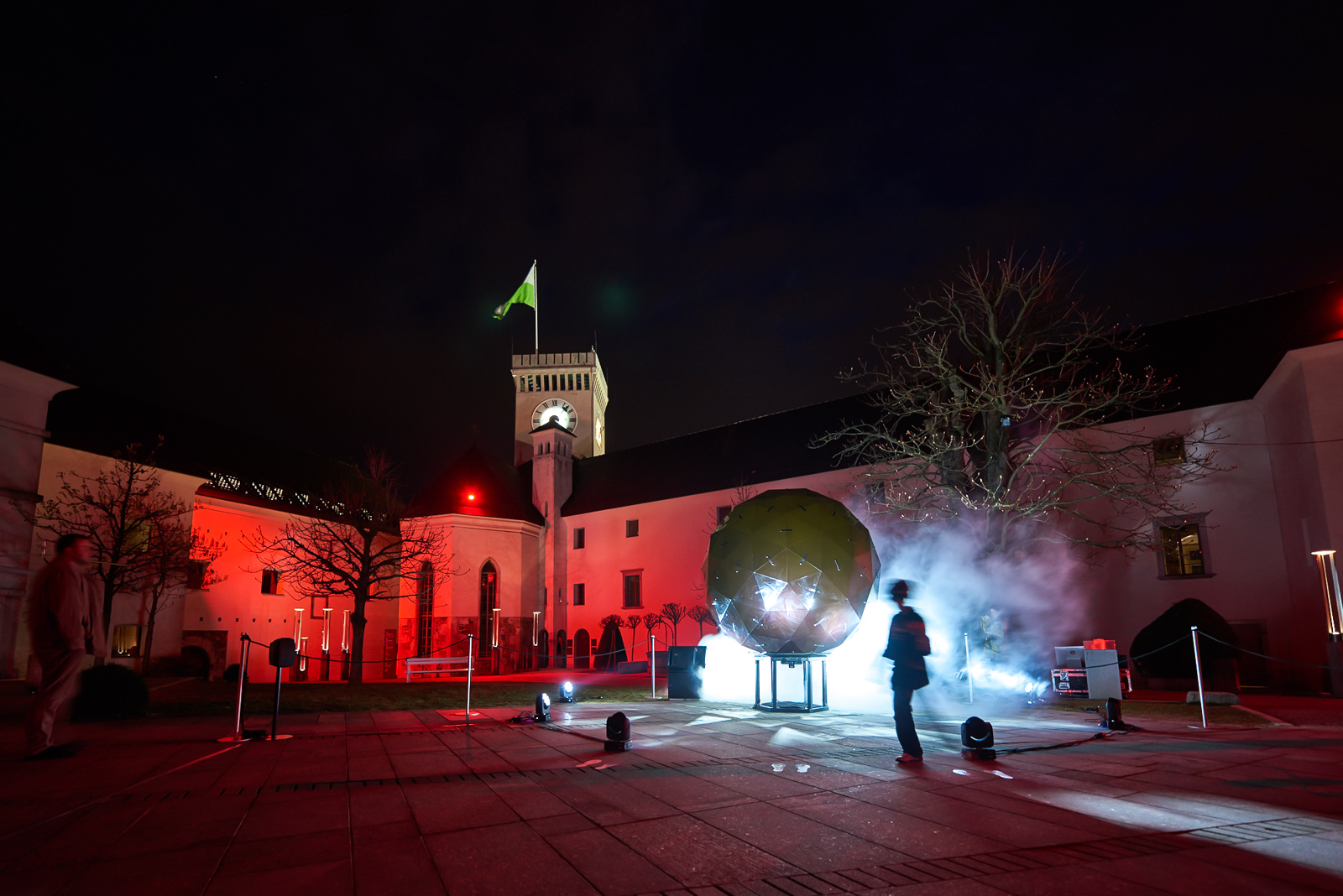 "The current version was constructed in coproduction with Akripol factory which produced the laser cut glass pieces," Baraga explains. "The daytime interaction uses a Raspberry Pi camera to detect movement of people, and nighttime interaction uses Kinect sensors to detect the movement of hands which trigger projections and sounds."

Baraga originally presented a smaller version at Sonica Festival in Ljubljana, then at Kinetica in London in 2012. He also also presented Moonolith at TodaysArt at The Hague inside of the city hall, and the following year it traveled to Lisbon, Portugal. After a few other installations, as well as continuous developments and upgrades, Baraga presented the large-scale Moonolith on the Republic Square outside of the Slovenian Parliament. After the Ljubljana Castle installation, it will travel to France and then Austria.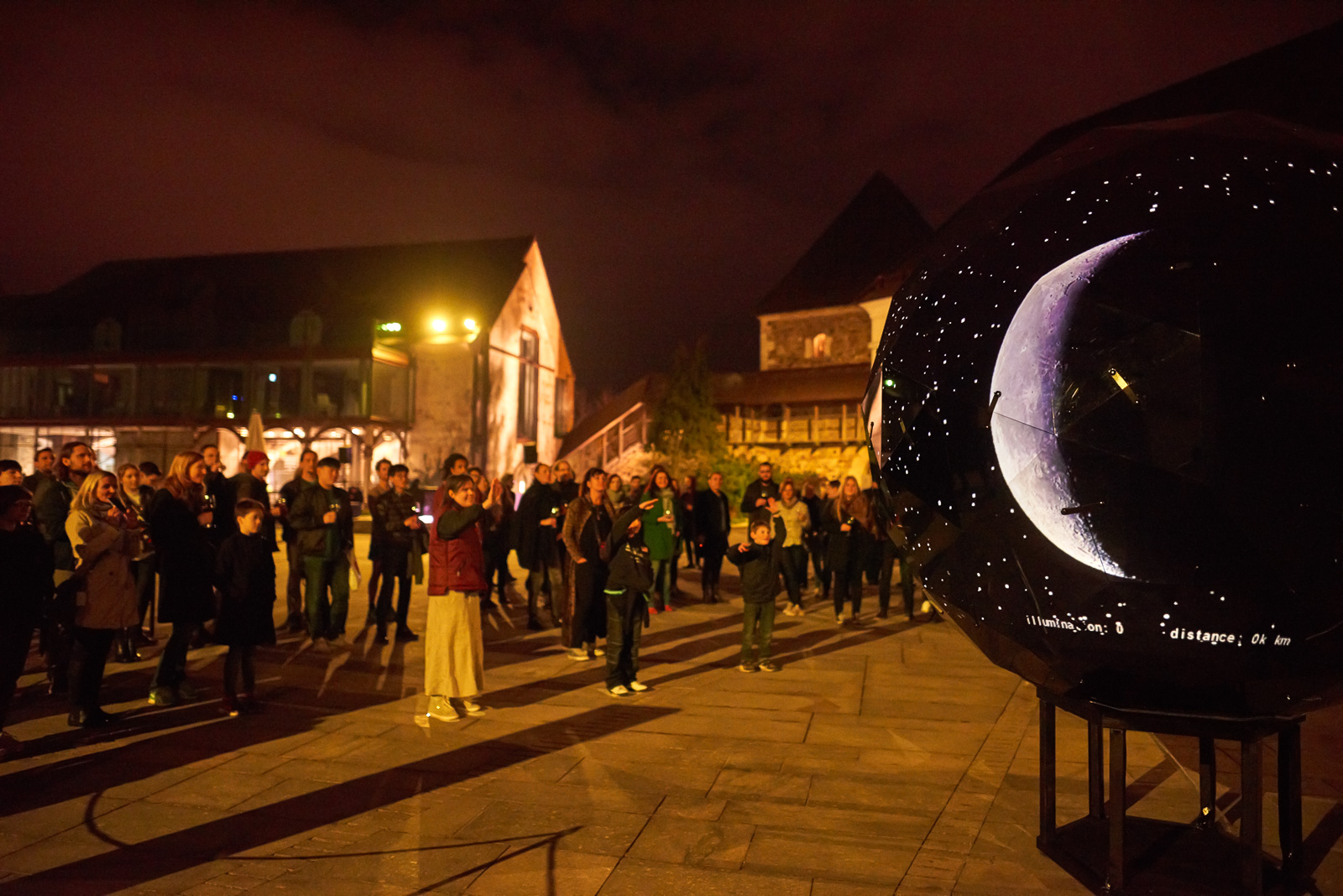 Outside of Moonolith, Baraga is also touring Cyanometer, a monolith that captures the sky's various shades of blue. He is also working in MoTA LAB (part of the city's MoTA Museum) on several new works.

"The Aethronome and the Lumitronome, as well as other works from the Metronomic Series," says Baraga. "They are autonomous organisms—kinetic structures that deal with transformations of energies and they all work without electricity, powered by natural elements such as sun, wind, water, etc."
Click here to see more of Martin Bricelj Baraga's work.
Related:
An LED Perspective On The Eternal Question Of Time
How Photographers Captured the Biggest Full Moon in 70 Years
An Immersive Installation Turns Earth's Sounds into Psychedelics