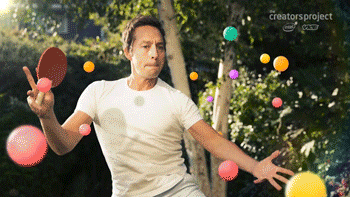 Graphics artist Joe Fellows teaches us how to use the parallax effect to turn boring photos into living picture books.
 Through a process known as the parallax effect, in which single frame photos are layered to create the illusion of third-dimensionality (3D), UK-based motion graphics artist and director Joe Fellows is able to turn a static shot into a multidimensional image. As part of our ongoing fall photo series, today we introduce you to Fellows, whose recent work involved creating the 2.5D animations for Ad Hoc Films and the World Wildlife Fund, employing the technique to bring hundreds of the WWF's archival photos to life. Using imaging software to layer stills, also known as The Kid Stays In The Picture effect after its namesake film, Fellows transforms a simple ping pong photo into a 2.5D animation. Watch above for a step-by-step tutorial on how to apply the parallax to your own shots.
Fellows is the founder of Make Productions, a boutique production company based in London specializing in animation and short film driven by design and narrative. Fellows studied at London's famous Chelsea and Camberwell College of Arts, where he also created short films and animated title sequences for the school--providing the foundations for his current work at Make. Over his career Fellows has also enjoyed directing and animating branding projects, title sequences, and idents for clients including Channel 4, Cartoon network, Channel Five, and BBC. 
The WWF sequence (as seen below), is a montage made from two films produced by Ad Hoc Films and directed by Dan Glynn. The result of a long business relationship, the World Wildlife foundation entrusted Ad Hoc Films with their entire photo archive to pick the very best for the sequence. "We spent days sifting through the archives to find the ideal images for parallax technique," says Fellows. "The film would be nothing with out all those photographer's amazing photographs."
WWF PARALLAX SEQUENCE from Make Productions
.
WWF parallax films Produced by Ad Hoc Films
WWF parallax films Directed by Dan Glynn
Parallax animations created by Joe Fellows at Make Productions
For more on the parallax effect, check out our film on Four Tet: Looking Forward, Moving Backward, or Yorgo Alexopoulos' Living Pictures, featured below: